Billie Cup settles in the Chamonix-Mont-Blanc Valley
Billie Cup in Chamonix: a partnership based on solidarity
The Vallée de Chamonix Community of Communes, the Zéro Déchet Mont-Blanc association, and Billie Cup France have joined forces to establish zero waste in the cafes and restaurants of the valley. Let's take a closer look at this partnership based on solidarity.
Ecological values that converge
Preserving the environment is a key issue in the Chamonix-Mont-Blanc Valley, a natural haven in the Alps. Building a model for preserving resources and limiting waste is therefore one of the key battles of various local actors.
Zéro Déchet Mont-Blanc: an ally for reuse
Alison Pritchard is the founder of  Zéro Déchet Mont-Blanc.
This association aims to facilitate the implementation of zero waste in the Chamonix Valley. This involves promoting responsible consumption, reuse, waste reduction, and recycling. When Alison heard about the arrival of Billie Cup in France in May 2022, she contacted Laetitia Eloi, Head of the Billie Cup project. Her idea? To encourage and help restaurants and cafes in the Valley to use reusable cups for takeaway or on-site consumption.
Billie Cup: the ideal partner
Billie Cup immediately appealed to the association for its transition to zero waste. The offer is varied: the brand offers reusable cups made in Saint-Martin-du-Fresne, Ain (01), in different sizes: 40 cl, 30 cl, 20 cl, and 12 cl. Tea, infusions, cappuccinos, ristretto or espresso lovers are thus guaranteed to find the container that suits them. The plus? A unique lid adapted to the three larger sizes of Billie. For takeaway consumption in complete simplicity! Designed to last, Billie Cup's reusable cups are made of polypropylene, an ultra-resistant mono-material. Each Billie can thus be reused up to 1000 times. Moreover, Billie Cup has already proven itself in Belgium and the Netherlands, with over… partners. That was enough to convince the members of the Zéro Déchet association.
A community of communes focused on sustainable development
To successfully implement Billie Cup, Alison and Laetitia found a powerful ally in the Vallée de Chamonix Community of Communes. Indeed, the institution has been multiplying ecological and solidarity initiatives for several years in order to make the Valley cleaner and more eco-responsible. They therefore met with Pauline Vaillard, Circular Economy Project Manager at the Community of Communes. Together, they thought about how to encourage businesses serving takeaway drinks to switch to reusable cups. The Community of Communes then decided to set up support for businesses wishing to join the Billie Cup community. Thus was born a solidarity partnership where each stakeholder contributes.
A promising start at the foot of Mont-Blanc
Everyone's efforts are already paying off as three partners, located in the town of Chamonix, have already joined the Billie Cup community and now offer their hot and cold drinks in reusable cups.
Zero waste and events coming together
Thanks to their direct geographical proximity to residents, the cafes and restaurants in the Valley and their multiple communication channels, the Zéro Déchet Mont-Blanc association and the Community of Communes encourage establishments offering takeaway (coffee shops, cafes, restaurants, ice cream parlors, bakeries) as well as consumers to adopt Billie Cup's reusable cups. The Community of Communes also provides financial support to each new partner. For its part, the Billie Cup team provides reusable cups made in France, and communication materials to raise awareness among businesses and users about reuse.
"For the CHR sector (Cafés – Hotels – Restaurants), the new AGEC law (anti-waste for a circular economy) is a 360-degree turn that the various businesses must take, especially for on-site sales. The Chamonix-Mont Blanc Valley is a pioneer on the subject. It's important that a professional like us accompanies them. Our expertise in events allows us to support these structures serenely in their transition to reuse." Laetitia Eloi, Billie Cup Project Manager.
Three coffee shops already on board
Since the beginning of the partnership, three establishments have joined the Billie Cup adventure. These are the Moody and Shoukâ coffee shops, which are essential in Chamonix, as well as the famous bakery/snacking chain, La Panière.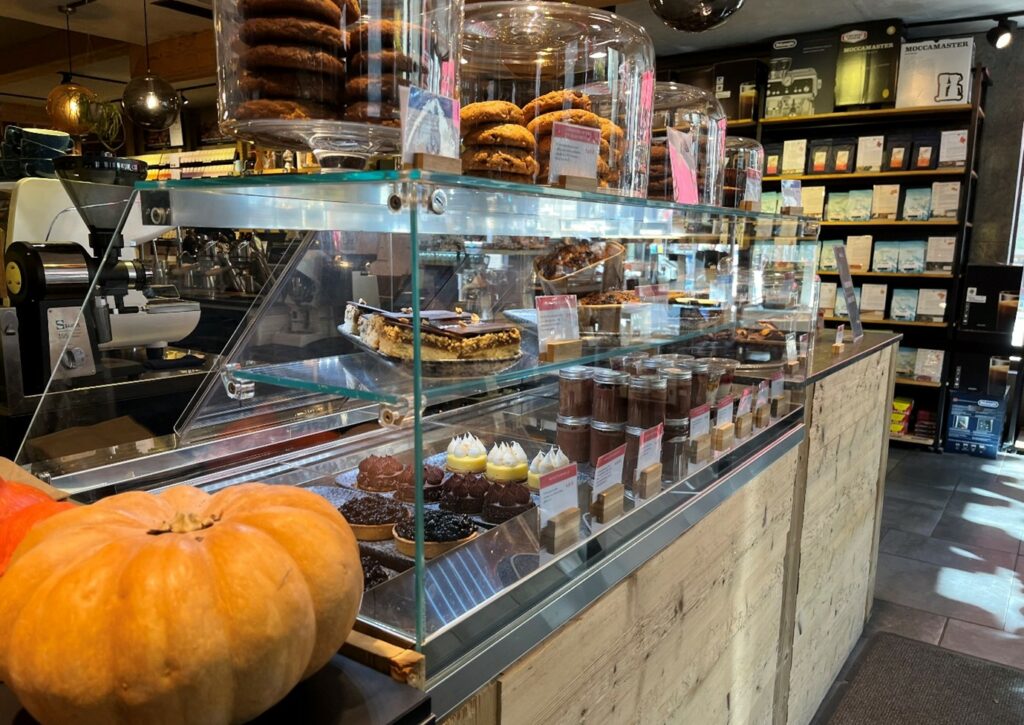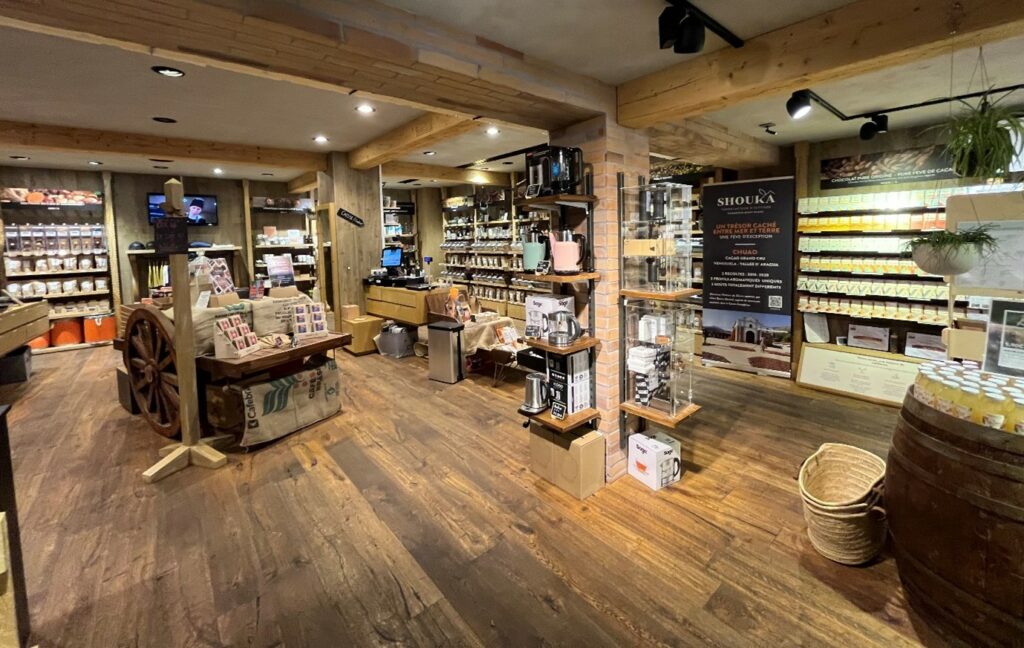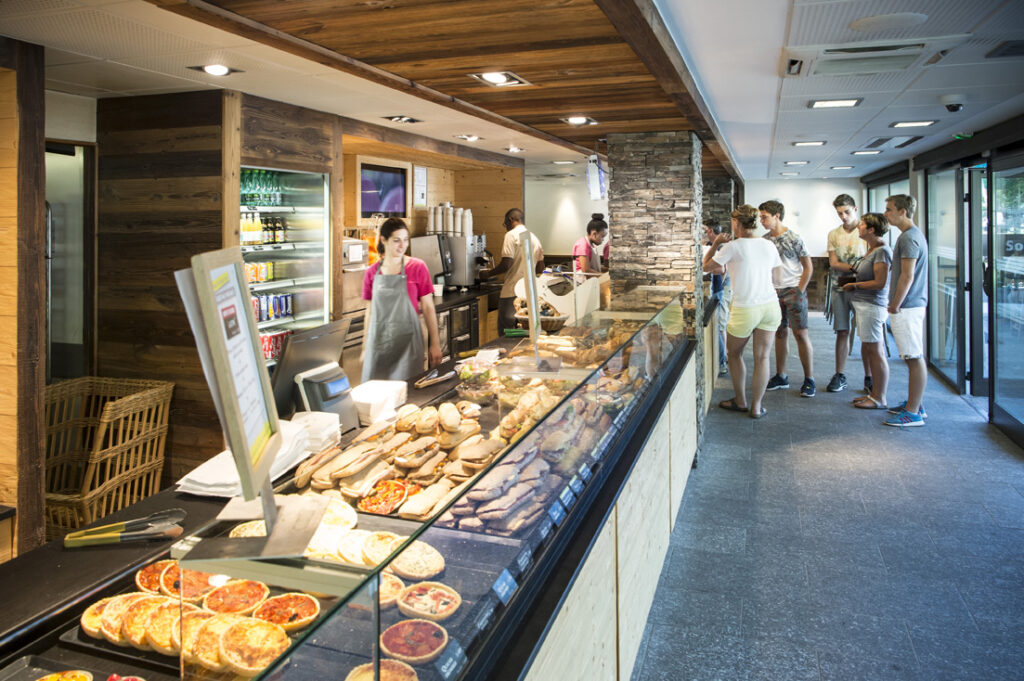 La Panière Chamonix-Whymper
Moody has been offering high-end coffee carefully roasted by its artisans since 2014. Whether you want to buy their freshly roasted coffee or enjoy a good hot drink and homemade pastry in their coffee shop, you will find what you're looking for.
Shoukâ is an altitude roaster offering quality coffee and cocoa, thanks to total control of the production chain and artisanal know-how. You'll find generous drinks and delicious pastries to enjoy on site or take away.
Finally, La Panière, a chain of bakeries and snacking, offers a wide selection of hot bread, snacks, pastries, and drinks in its 41 points of sale. Everything is prepared with authenticity and quality products. Recognized as a mission-driven company in May 2022, La Panière goes further in its commitment to the environment by choosing Billie Cup cups for its Chamonix Whymper establishment.
The Billie Cup team would like to thank the Zéro Déchet association and the Chamonix Valley Community of Communes for their trust, as well as our partners in Chamonix.